MYS Strings Camp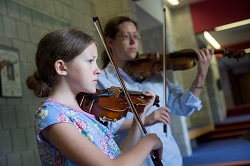 The Manchester University Youth Strings Camp will be held from June 25-28, 2017 in Cordier Auditorium on the North Manchester campus. Residential students will spend three nights in Oakwood or Helman Hall and receive 10 meals. Commuter students will receive lunch each day.

Check in: Sunday, June 25, Noon-2pm
Grand Finale Concert: June 28, 7pm in Cordier Auditorium. Free and open to the public.

Younger students must have completed one year of study and be able to read music.