Student Application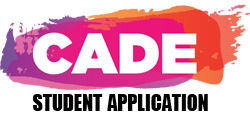 STUDENTS AND RECENT GRADUATES - Students wishing to participate in CADE-London workshops with the UK's premier theatre educators must complete an application to be considered. Space is limited, apply today!

Applications must include an Artist Statement addressing your goals as an artist and how you believe CADE will help you achieve your goals, an Artist Resume, and Letter of Recommendation from someone who can speak to your abilities as an artist.

All three items must be uploaded to Google Drive, the shared link for which must be pasted into the given space on the application form.