Observer Registration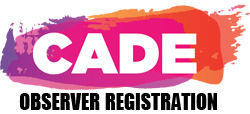 LIFELONG LEARNERS or OBSERVERS
- CADE is open to lifelong learners or "Observers" who are interested in experiencing the arts + culture and viewing the performances but not actually participating in workshops. Observers could be non-arts students, parents, staff, faculty, alumni, or donors. Space is limited and is available on a first come, first served basis. Register today!
To register and hold your spot, select either the Deposit or the Full Payment option.
Selecting the Deposit option, enrolls you in our Payment Plan.
Deposit = $500
Payment 1 = $2,000
Payment 2 = $2,000
Payment 3 = $1,500

Deadlines for each payment are flexible, however, full payment must be received no later than June 1, 2017. Questions? Contact the Program Director.