2016 Saturday Academy in Digital Music Production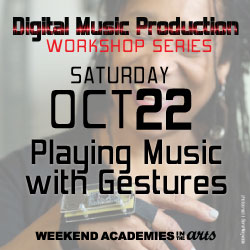 SATURDAY ACADEMY IN
DIGITAL MUSIC PRODUCTION
Workshop Series
Oct. 22 | Jan. 28 | Apr. 22


$35 for Workshop Only
$75 for Entire Series
*Registration includes materials and food.
For scholarship information, visit our website.
Workshop #1: Playing Music with Gestures
October 22, 2016 | 10:00am-1:00pm
Work with award-winning singer, composer, and computer musician Pamela Z! Students will receive hands-on instruction in how to make and play music by means of gestures with wireless devices. No instrumental or computer experience required!
Interested in the whole series?
Here are the topics for the other workshops:
Workshop #2: Making Beats - January 28, 2017
Workshop #3: Instruments & Computers - April 22, 2017
All participants are required to complete and submit a waiver and photo release form upon arrival to the Academy.
Download the Waiver (right click, save as)
Download the Photo Release (right click, save as)
To register, please have the following information ready:
-Name
-Address
-Phone Number
-Email
-Date of Birth
-School
-Emergency Contact Information
-Medical Information
-Method of payment
Visit our
website
for more information on this Academy. Questions?
Email us!
Academy cost will be added on next page.