Tufts CSDD R&D Management Reports - Single Issue Electronic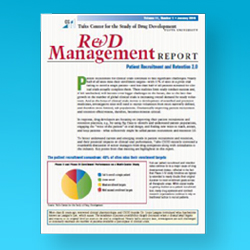 Tufts CSDD R&D Management Reports highlight speaker presentations and main discussion points from each Tufts CSDD Executive Forum roundtable. Roundtables typically include a presentation on current research by Tufts CSDD staff, followed by industry speakers, who present case studies on their companies' experiences. Open discussion by all attendees generates a lively exchange on the pros and cons of different approaches to solving specific R&D challenges, and identifies best practices.
Tufts CSDD R&D Reports Issues prior to 2012 are available by special request. Please email csdd@tufts.edu for more information.
Questions?
Contact
csdd_payments@tufts.edu