Tufts CSDD Impact Report - Subscription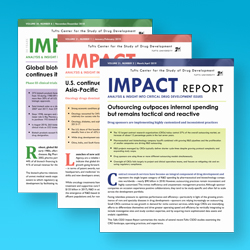 Analysis and insight into critical drug development issues. Cutting edge information. Original research. Your most reliable guide to drug development.

Sponsor and Academic Rates available. Please email us at csdd@tufts.edu to inquire about the rates. Must be Tufts CSDD Sponsor Company or Academic/Non-profit/Gov't* to be eligible. *Military and Veterans included.