2019 Postgraduate Course in Clinical Pharmacology, Drug Development and Regulation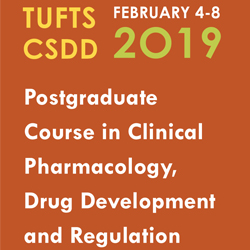 Online registrations for Tufts CSDD's 2019 Postgraduate Course are now closed. If you would like to register for the course, please e-mail csdd@tufts.edu or call us at 617-636-2170
FEBRUARY 4-8, 2019 | Ritz-Carlton Hotel, Boston, MA
*Please note that this course is no longer offering CME credits. Please email csdd@tufts.edu if you have any questions.*
Tufts CSDD's highly acclaimed, five-day Postgraduate Course in Clinical Pharmacology, Drug Development and Regulation provides advanced instruction in practical and technical problem-solving in the areas of clinical pharmacology, drug development & clinical trial strategies, biopharmaceutical development, drug safety, and new drug regulation.
WHO SHOULD ATTEND THE COURSE
* Physicians, pharmacists, marketing executives, clinical researchers, nurses, analysts, investors and any professional working with or in the research-based drug industry.
* Professionals looking to begin work in the pharma or biotech sectors, and are seeking comprehensive and foundational industry knowledge and training.
* Individuals employed by regulatory agencies, academic institutions, outsourcing providers, consultancy firms, niche service providers, and other organizations involved in the research, development, and regulation of pharmaceutical products.​
Agenda
Brochure
To register with a Group Rate, see the
Courses - Group Rate category
Questions?
Contact
csdd_payments@tufts.edu