New York City Bus Trip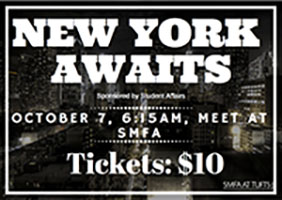 Throughout the year, SMFA Student Affairs coordinates programs for the community. Join us Saturday, October 7th for our annual bus trip to New York City. The trip includes transportation to and from NYC. All meals and entertainment whie in NYC are on your own.
We will leave from the SMFA (230 Fenway, Boston MA 02115) at 6:15am and arrive at the Metropolitan Museum of Art (1000 5th Avenue, New York, NY 10028) at approximately 10:30am. You will then have all day to explore the city. At 8:00pm we will meet again at the Metropolitan Museum of Art to drive back to SMFA, where we will get there are approximately 11:30pm.
Tickets are $10 for Tufts students, $15 for guests. Students are allowed to bring one guest with them on the trip. Tickets are non-refundable. If you have any questions, please e-mail student affairs at SMFAstudentaffairs@tufts.edu.