Jumbo: Marvel, Myth, and Mascot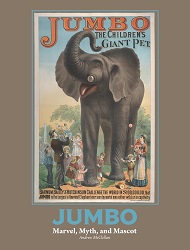 Lavishly illustrated with over 150 images on 72 pages, Jumbo: Marvel, Myth, and Mascot is authored by exhibition curator and Jumbo aficionado, Tufts Professor of Art History Andrew McClellan.
It tracks Jumbo's remarkable journey — from his exodus out of Africa to the London Zoo, his sale in 1882 to P.T. Barnum, showman extaordinaire, his celebrity as the center of Barnum's acclaimed show, and his legendary renown after his death in 1885. The book describes Jumbo's broad appeal, leading to the proliferation of his image across an astonishing range of product brands well into the twentieth century.
The book concludes with the story of Jumbo's arrival at Tufts in March of 1889, and his adoption as the school's unique, strong, and beloved mascot.