Graduate Student Research Conference 2018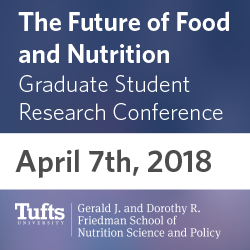 The 11th Annual Future of Food and Nutrition Graduate Student Research Conference is a unique venue for graduate students across disciplines and from around the country to submit and present original research relating to the food system and nutrition science.
For more event information, please visit
our website.
Please note: The registration price will increase by $10 on April 3rd, 2017 at 5PM. You may register on the day of the event at the registration tables.