Talk Radio by Eric Bogosian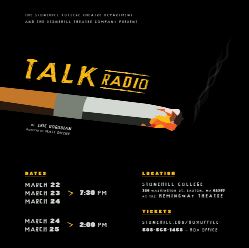 Barry Champlain, Cleveland's controversial radio show host, is on the air doing what he does best: insulting the pathetic souls who call in the middle of the night to sound off. The most frightening thing? They love it. In fact, Barry's show is so popular it's about to go into national syndication, and his producer is afraid that Barry will say something that will offend the sponsors. This, of course, makes Barry even more outrageous. Disturbing, funny, moving, off-beat, and totally entrancing, Talk Radio was adapted into a riveting film by director Oliver Stone and revived for Broadway audiences in 2007 - earning two Tony Award nominations. "A compelling work that draws you straight into the heart of its fringe world. It makes the call-in show a metaphor for America's lost souls." - New York Newsday
Contains adult language and themes. Not suitable for children.
Showtimes:
Thursday March 22 at 7:30 pm
Friday March 23 at 7:30pm
Saturday March 24 at 2:00pm & 7:30pm
Sunday March 25 at 2:00pm
Show Prices:
Stonehill Students: $5
Stonehill Faculty/Staff/Seniors/Military: $10
General Public: $15
For groups of 10+ please call the box office at 508-565-1458
Thank you and enjoy the show!
*You will need to select the ticket price first, and then click "Add to Cart" to choose the Showtimes.