Christ Encounters Retreat Spring 2019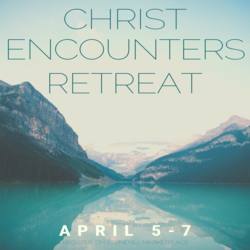 Christ Encounters Retreat
Date:April 5-7
Location: Wonderland Conference Center in Sharon, MA
Cost: $35 (scholarships available, contact Fr. Matt, mfase@stonehill.edu)
Through talks, reflection, conversation, and prayer, participants will discover how they encounter Christ in their everyday life.
It is a time to will meet wonderful people, learn about yourself, think reflectively about faith and spirituality, and to have a great weekend away from Stonehill.
This retreat is organized almost completely by students under the guidance of our Campus Ministers.
Retreatants will leave at 4:30 pm on Friday April 5th, and they will return by 3:30 pm on Sunday April 7th
Questions? Contact Fr. Matt, mfase@stonehill.edu