Reusable Cutlery Packs to Support International Affairs Scholarships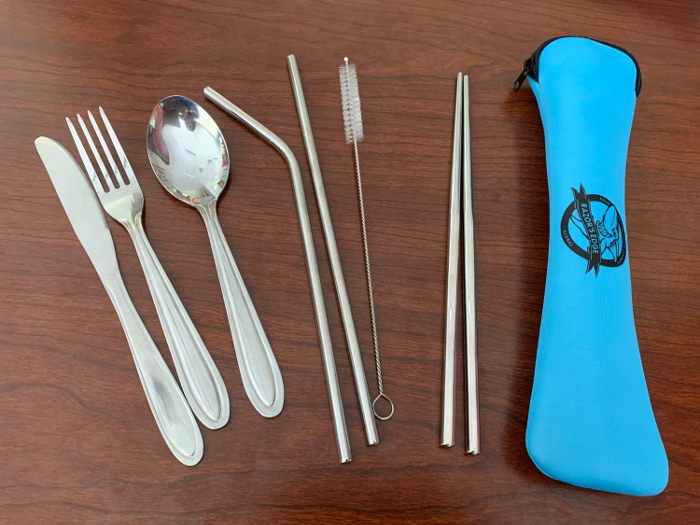 Support International Students, Study Abroad & Sustainability at NSU!
Razor's Edge Global empowers exceptional NSU undergraduate students to cultivate their talents and passions as they champion campus internationalization, serve as change agents in their diverse communities, and engage others in global citizenship. Razor's Edge Global Scholars will develop and demonstrate a commitment to continual growth in the following areas:
• Global Engagement
• Citizen Diplomacy
• Servant Leadership
• Access & Equity
• Environmental Sustainability
• Professionalism & Vocational Readiness
In fulfilling the mission and objectives, Razor's Edge Global Scholars lead fundraising initiatives to support two scholarship opportunities for NSU students:
•
NSU Travel Exploration Grant:
Funding for students to engage in international curricular and co-curricular experiences that have been approved for ExEL Travel Exploration units. Examples include study abroad, faculty-led travel study, and international internships and medical fellowships.
•
NSU International Student Grant:
Funding for F-1 international students who are experiencing an economic hardship. Requests can include academic, non-academic, and immigration-related costs.
In alignment with the Razor's Edge Global sustainability objective, by purchasing your own reusable travel cutlery set to use on and off-campus, you will be helping to reduce the waste of single-use plastic. Additionally, you will be helping Razor's Edge Global Scholars in their fundraising to promote campus internationalization and global citizenship.
Price: $5.00

All proceeds from cutlery sales will be split evenly between the NSU Travel Exploration Grant and NSU International Student Grant.
Kit Includes:
Metal fork, knife, spoon, chopsticks, two metal straws and a cleaning brush, all in a compact and durable carrying case.
To Redeem Your Kit:
Bring your receipt (electronic or printed) to the Office of International Affairs during regular business hours. You will be asked to provide an ID and sign for your cutlery set.
Questions:
Please contact Jeannie Jaworski, Director of International Affairs at 954-262-8674 or jjaworski@nova.edu with any questions.
----------------------------------------------------