What Are We GHANA Eat?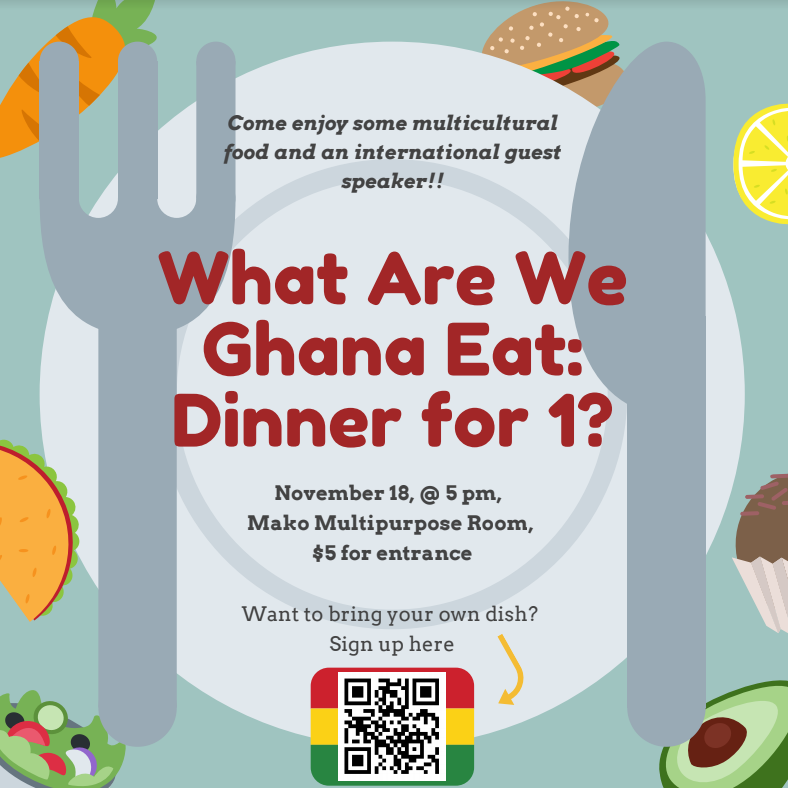 What Are We GHANA Eat? IEW Event 2019
Learn about income inequity in Ghana while enjoying delicious local and global food during the inaugural Razor's Edge Global fundraising event, created and hosted by the Carter Class (Class of 2022).
Food:
Food will be provided by Razor's Edge Global Scholars as well as other NSU faculty and staff and will feature cuisine from around the world. If you are interested in donating food, please sign up
by clicking here.
Fundraising:
Proceeds for the event will benefit the following causes:
•
The Talented Women's Club (50%):
An NGO organization providing microloans to Ghanaian women who use the funds to create business that support their families. Learn more at
http://www.the-talent-tree.org/twc.
•
NSU Travel Exploration Grant Fund (25%):
To provide a source of NSU funding for students to engage in international curricular and co-curricular experiences which have been approved for ExEL Travel Exploration units. Examples include study abroad, faculty-led travel study, and international internships and medical fellowships.
•
NSU International Student Grant Fund (25%):
To provide a source of NSU funding for F-1 international students who are experiencing an economic hardship. Requests can include academic, non-academic, and immigration-related costs.
Sustainability:
In alignment with the Razor's Edge Global commitment to environmental sustainability, our goal for this event is to be plastic-free.
Attendees should be aware that no plastic cutlery will be available at the event.
Please bring your own utensils to reduce waste. Alternatively, you may purchase disposable bamboo cutlery for an extra $1.00 or purchase an entire set of reusable metal cutlery for $5.00. The reusable cutlery includes a fork, knife, spoon, chopsticks, two metal straws and a cleaning brush, all in a compact and durable carrying case. All proceeds go to the fundraising initiatives listed above.
Clicker here
here
for a photo of the cutlery set.
Questions:
Please contact Jeannie Jaworski, Director of International Affairs at 954-262-8674 or
jjaworski@nova.edu
with any questions about this student-led event.
--------------------------------------------------