Class of 1994 & Class of 1999 Reunion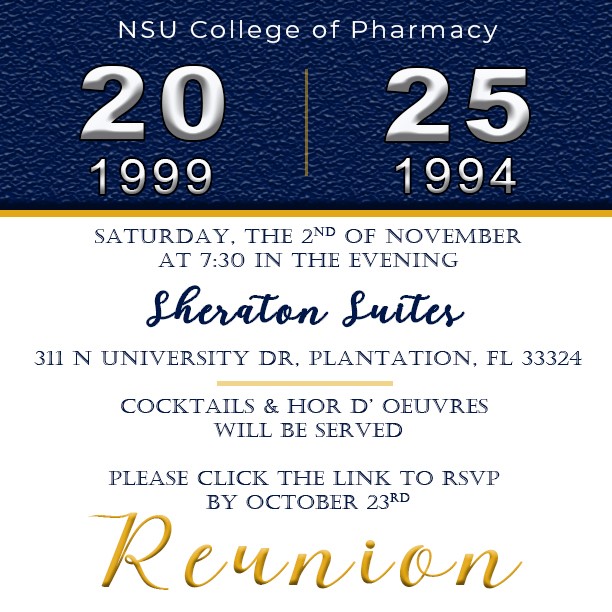 Class of 1994 & Class of 1999 Reunion
25 - and 20 - Year Reunion
When:
Saturday, November 2, 2019
Time:
7:30 p.m. – 11:30 p.m.
Where:
Sheraton Suites
311 N University Dr., Plantation, FL 33324
Cocktails & hors d'oeuvres will be served.
You must have a ticket to attend.

Tickets:
NSUCOP Alumni: Complimentary
NSUCOP Guest: $30.00
We have secured a block of rooms at the Sheraton Suites-Plantation specially priced for NSU COP Alumni attending this event.
Book your group rate for NSU's College of Pharmacy Alumni Reunion
Rates are available through this link for reservations between November 1st – 4th only and must be reserved before October 15, 2019 to receive special pricing. If additional days are needed, please contact the Hotel directly at 954-452-3223 to check availability.
For questions, please contact:
Carla Luque, Pharm.D.
ydecastr@nova.edu
--------------------------------------------------------------
If you experience any issues purchasing this item, please contact: Andrea Butler at 954-262-1204.