Golf Lessons Beginner (09/21/2019 12:15PM-2:15PM)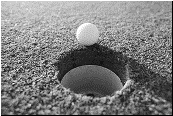 Sorry, the class is full. Please contact Tom Vitucci to get on a waiting list at tomv@nova.edu.
This golf clinic is for beginner golfers and those who are just getting into or are curious about the sport. Cost is $25 for students; $45 for Faculty, Staff or RecPlex members. Class meets from 12:15 pm to 2:15 pm on the designated day at the Plantation Preserve Golf Course. Class is limited to 8 people. Golf lessons provided by Chris Granger. You must have your own set of golf clubs to participate in the golf class.