Tom Landry Award Dinner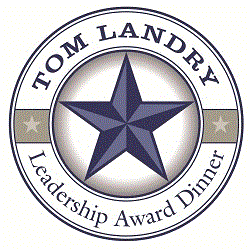 Each year the Tom Landry Leadership Award dinner continues to honor individuals who use their God-given talents and abilities to excel in their chosen field of work, who provide and exhibit exceptional leadership, who are committed to serving others in their community, and who demonstrate integrity in their personal lives. The event recognizes the lasting legacy of one of North Texas' most famous citizens, Tom Landry.
This form will walk you through the steps of purchasing a table to this event online. Remember, your information is secure.