Clemson Players T-Shirt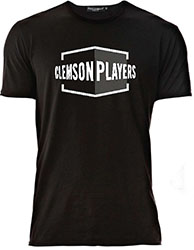 Support the arts and Clemson students with the purchase of a black short-sleeve t-shirt featuring the Clemson Players' new logo designed by Kim Van Ness. All proceeds go to professional development scholarships for Clemson Performing Arts students.

Walk-in orders may be picked up at the Performing Arts Main Office, 221 Brooks Center M-F 9:00am-2:00pm. Shipping options are also available.