Mountains to Sea Camp - June 15-19, 2020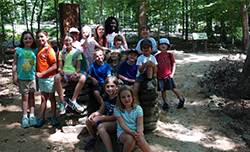 Mountains to Sea Camp
June 15-19

In this camp, children will explore the various ecosystems of South Carolina. Using the Natural Heritage Garden as our guide, we'll take a journey from the mountains to the sea, and we'll discover the interesting plants, animals and people who have called these spaces home throughout our state's history. Participants will enjoy daily hikes in the Garden, games and hands-on activities as well as visits to nearby historical sites. Take home projects will include hand-dyed shirts, pottery and more! Please register by June 8.

Age: 6-12
Camp Session: June 15-19, 8 a.m. to 3 p.m.
Price: $195
Location: Conference Center, lower level
Drop off is from 8- 9 a.m., and camp begins at 9 a.m. sharp!