CAMP ICE AGE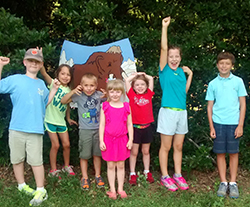 CAMP ICE AGE
Monday- Friday July 16-20 from 8:00a.m. to 12:00p.m. at the Nature Learning Center

Chill out at this summer's coolest camp! Get to know some of the giant animals that roamed the earth during the last ice age and learn about glaciers, daily life in a tundra, Ice Age art and more! Campers will learn about different aspects of the Pleistocene each day through stories, games, art, experiments and nature hikes. We'll also visit the Bob Campbell Geology Museum to take a look at real Ice Age fossils! Please register by July 2.

Suggested Age: 6-12 yrs
Fee: $100 per
Camp Session: 8:00a.m. - 12:00p.m.
Drop off is from 8- 9 a.m., and camp begins at 9 a.m. sharp!