Bayou Coeur and Other Stories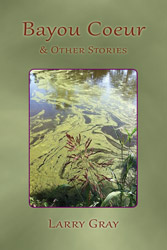 Bayou Coeur and Other Stories, by Larry Gray (Clemson, SC: Clemson University Press, 2015), vi+88pp. Paper. ISBN 978-0-9908958-3-1


"Larry Gray's Bayou Coeur is the thing that readers hunger for, storytelling that lights up the mind like a movie screen and gives a strong sense of place woven from authentic detail-writing that flows like the currents of the heart."
-Tim Gautreaux, author of The Clearing, Next Step in the Dance, The Missing, Welding with Children


"Larry Gray is a master storyteller. He knows his people, their histories and their voices. This collection is simply unforgettable."
-Bev Marshall, author of Right as Rain and Walking through Shadows


"Forget Duck Dynasty and True Detective. Read Bayou Coeur and enter a world as different from the homogeneity of American life as Étouffée is different from Campbell's soup. Gray leads us through this unique culture like a skilled cajun accordionist laying down his chords and pursuing a melodic line that evokes nostalgia and mystery and resolves into surprising harmonies."
-Bill Dowie, author of critical biographies of Peter Matthiessen and James Salter in the Twayne U.S. Authors Series