I Love Brooks Center Car Decal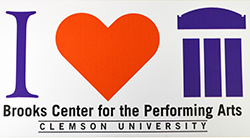 I Love Brooks Center –Purple/Orange – Have a heart, support Performing Arts with this trendy purple and orange rectangle 6" x 3" removable car decal. All proceeds go to scholarships for Performing Arts students.

Walk-in orders may be picked up at the Brooks Center Box Office M-F 1:00p.m. - 5:00p.m. and 90 minutes before calendar shows. Shipping options are also available.