2020 ONLINE Conference on the Value of Play: PLAY FOR ALL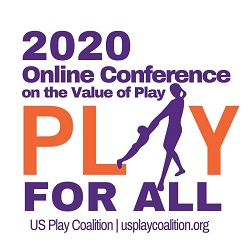 2020 ONLINE Conference on the Value of Play: PLAY FOR ALL
With the rapid pace of the COVID-19 outbreak, we have moved the 2020 Play Conference to an online format. We feel it's the right and responsible thing to do.
The US Play Coalition feels strongly that our conference takes on a new importance at times like these. Play is a valuable tool people can use to help address anxious times, and a necessary release when isolated at home.
So get excited for the FIRST EVER ONLINE Conference on the Value of Play! We hope you will engage with us virtually in the interest of public health, wellness, safety and education!!!
To learn more about the conference, please
click here
You can also receive a discount by becoming a member of the US Play Coalition. Membership is free and can be completed on our website
http://usplaycoalition.org/get-involved
Registration Fees
$199 for members/ $249 for nonmembers
ONLINE Conference Registration includes:
Access to all "Live" online presentations, including Lise Aangeenbrug on March 30, Michael Hynes (date TBD) and more. These presentations will also be recorded and included in the 2020 ONLINE Play Conference content.
Access to view 50+ recorded educational and research symposium sessions from your office or at home on a computer or devices through June 30, 2020 (estimated online conference launch is April 15).
Invitation to join a closed LinkedIn group for 2020 ONLINE Play Conference attendees to connect with PLAY colleagues, share resources and engage around the VALUE of play year-round!
WAIVERS
Photo and Video Release Waiver
I hereby grant the US Play Coalition and Clemson University the irrevocable and unrestricted right to use and publish photographs or video images of me in any print, electronic, digital or other media, live or in recorded format in perpetuity, and to alter the same without restriction. I further acknowledge that my participation is voluntary and that I will not receive financial compensation of any type associated with the taking or publication of these images.
Liability Waiver and Release
I hereby assume all of the risks of participating in this event and waive, release and discharge the US Play Coalition and Clemson University and their directors, board members, officers, employees and volunteers from any and all liability. I agree to indemnify, hold harmless, and promise not to sue the entities or persons mentioned above from any and all liabilities or claims made as a result of participation in this activity or event.