Garden Bliss: Yoga + Reiki with Vanessa Bonet - July 12, 2019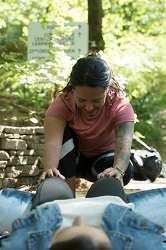 Garden Bliss: Yoga + Reiki with Vanessa Bonet
Date:
Friday, July 12
Time:
7:00 – 8:00 p.m.
Join Vanessa Bonet, RYT-200 and Reiki practitioner, for a blissful class that combines yoga with Reiki. The first portion of the class will include stretches that will help you release stress and tension from joints and muscles, and the second portion of the class will incorporate restorative poses to allow you to settle and relax as you receive hands-on Reiki.
Please bring a yoga mat if you have one.
Pre-registration is required for this special class; space is limited. Participants should be able to get down to the ground and up again unassisted. This class will be held weather-permitting and will be rescheduled in the event of inclement weather.
$12 per person in advance. No drop-ins, please.
*If you cannot attend the class/series for any reason, you must request a refund at least 5 days prior to the start of the event. Otherwise, you may gift your registration to a friend.*
Location:
Hayden Conference Center (in the back)
Cost:
$12
Contact Name:
Vanessa Bonet
Contact Phone:
(864) 707-3657
Contact Email:
:
moongoddessyoga@outlook.com