Musical Teddy Bear's Picnic - July 10, 2019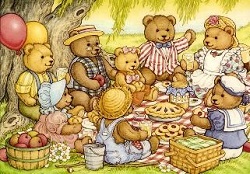 Musical Teddy Bear's Picnic - July 10, 2019
Wednesday, July 10 from 11:00a.m. to 12:00p.m.
Dress up your favorite teddy bear and head on down to the Teddy Bear's Picnic at the SCBG! Bring your own family picnic and picnic blanket, and honey cake will be provided! Best dressed bear wins a special prize. Bring your teddy bear loving children and enjoy the woods while we have bear story time, sing teddy bear songs, play hide and seek with teddy, and more! Space limited. Registration required by July 5th.
Ages:
any age that loves teddy bears!
Fee:
$10/family
Time:
11 am-noon
Location:
Children's Garden Area (Rebecca will email specific location description)
Contact:
Rebecca Smith, 919-389-9021,
themelodygarden@gmail.com