Off the Mat and Into the Garden: Yoga on the Go (5-week series) with Melissa Powell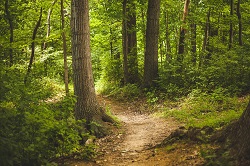 Off the Mat and Into the Garden: Yoga on the Go (5-week series) with Melissa Powell
March 25 through Monday, April 22, 2018
Join Melissa Powell, RYT 200, for a yoga series that combines mindful walking with yoga. We'll start and end at the Amphitheater. The class will begin with seated poses on the Amphitheater seating levels, then we'll take a slow, mindful walk through the Garden, pausing to do standing poses, and we'll return to the Amphitheater to rest seated or lying down.
This class is appropriate for anyone who can comfortably walk on the Garden's paths, including some uneven terrain, like steps.
Time:
9:30 - 10:45 a.m.
Location:
Amphitheater.
The Off the Mat series will be held weather-permitting. In the event of very cold or rainy weather, we will skip that week and use Monday, April 25 and, if needed, Monday, May 6 as make-up days. You will receive an email from Melissa at least 2 hours prior to class time if any given class will be rescheduled to one of those days.
Cost:
$$25 for all 5 weeks
Please register by Wednesday, March 20, as space is limited. To receive a refund for any reason, you must contact Melissa at least 5 days before the first class.
Contact: Melissa Powell at
greenheartawakening@gmail.com
, or 864-502-8328 (call/text).