Yoga for Gardeners: Preparing to Plant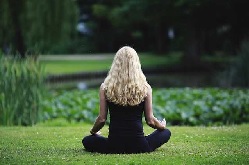 Yoga for Gardeners: Preparing to Plant
Do you love gardening but not the aches that come from digging, pulling, and carrying? Are you interested in trying yoga but not sure where to start? Are you hoping to plant seeds for growth in 2019? Join Melissa Powell, RYT 200, for this accessible yoga class that will help to strengthen and stretch the muscles used while gardening and also help connect you to the rhythms of the season and your intentions for the new year. Let's prepare to plant!
No yoga or gardening experience needed. Registration required by Wednesday, January 2. Minimum of 5 participants required.
This class will be held weather-permitting and will be rescheduled in the event of inclement weather.
When:
Mondays, January 7, 14, 28 and February 4, 11, 18* from 9:30 – 10:45 a.m.
Fee:
$30 for 6 weeks.
Where:
Hayden Conference Center. Outside during warm and sunny days. Inside during inclement weather.
*No class on January 21. February 25 will be the make-up day if a class is cancelled due to weather.
Contact :Melissa Powell of Green Heart Awakening at 864-502-8328 (call/text) or
greenheartawakening@gmail.com
.