2020 Conference on the Value of Play: PLAY FOR ALL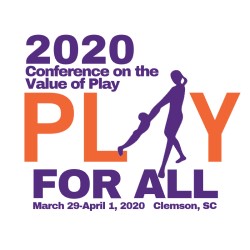 2020 Conference on the Value of Play: PLAY FOR ALL
March 29-April 1, 2020
Clemson University
Clemson, South Carolina
To learn more about the conference, please
click here
.
The early bird discounted rates expire on
March 1, 2020
, so register today and save!
You can also receive a discount by becoming a member of the US Play Coalition. Membership is free and can be completed on our website
http://usplaycoalition.org/get-involved
.
Full Conference Rates include:
Three lunches and two dinners and refreshment breaks throughout the conference
Access to all headliner presentations, research symposia, educational sessions and more!
Complimentary hospitality room time each evening - a true highlight of the conference!
Post conference access to presentation handouts and conference photos


Registration Fees
University, department, and municipality partner discounts available. Please email
spgarst@clemson.edu
for more information about our partnership opportunities.
Full conference registration:


Early Bird
(until Mar 1)
Regular
Member
$374
$424
Non-member
$449

$499
Clemson University Faculty/Staff/Students
$179

$179
Students (other than Clemson University)**
$179

$224
Single day registration*:


Early Bird
(until Mar 1)
Regular
Member
$199
$224
Non-member
$224

$249
Clemson University Faculty/Staff/Students
$99

$99
Students (other than Clemson University)**
$99

$124
* Dinner is not included for single day registrations but can be purchased separately if desired.
**To qualify for the student rate, you must send a copy of your student ID to
US Play Coalition.
Accepted Payment Options
All online payments must be made via credit card or debit card. Clemson University employees should use an IDO. You can also pay by check by completing the
printable registration form
and mailing it to us with your conference registration payment. If you are unable to pay using one of these payment methods, please contact us at
usplaycoalition@clemson.edu.
Refund Policy
The last day to request a full refund for The Play Conference registration is 30 days prior to the first day of the conference (Friday, March 1, 2020).
Hotel and Transportation
For hotel and transportation information, please
click here.
WAIVERS
Photo Release Waiver
I hereby grant the US Play Coalition and Clemson University the irrevocable and unrestricted right to use and publish photographs or other images of me in any print, electronic, digital or other media in perpetuity, and to alter the same without restriction. I further acknowledge that my participation is voluntary and that I will not receive financial compensation of any type associated with the taking or publication of these images.
Liability Waiver and Release
I hereby assume all of the risks of participating in this event and waive, release and discharge the US Play Coalition and Clemson University and their directors, board members, officers, employees and volunteers from any and all liability. I agree to indemnify, hold harmless, and promise not to sue the entities or persons mentioned above from any and all liabilities or claims made as a result of participation in this activity or event.