April 24, 2019 Clemson University Men of Color South Carolina Pre-Summit Marketplace Registration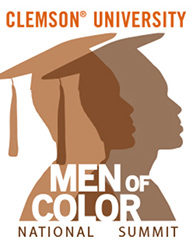 April 24, 2019 Clemson University Men of Color South Carolina Pre-Summit Marketplace Registration
NOTE: Please have all information available before beginning registration process. Process must be complete within 15 minutes or the system will time out. You will receive an email confirmation with invoice upon successful completion of your registration.
Registration Pricing – includes presentations, materials, and lunch:
**Select -
$149 - 2019 Pre-Summit only admission
**Payment type: Credit Card or Electronic Check
No refunds will be issued, upon completion of registration and payment confirmation. Registration closes March 15, 2019 or when sold out. All payments must be finalized by that time. Questions should be directed to:
menofcolorsummit@clemson.edu
or mail to: Clemson University, Office of Inclusion & Equity, 223 Brackett Hall, Clemson University, Clemson, SC 29634.
During registration you will be asked to agree to the following media release:
In consideration for my participation in The Clemson University Men of Color National Summit, I hereby grant permission to Clemson University and its representatives and employees to take photographs, video and audio recordings of me. I give Clemson University permission to use these images, recordings, my name, and likeness to copy, reproduce, distribute, modify, and display; for any purpose throughout, including but not limited to education, research, trade, advertising, and promotion. I agree that I will receive no consideration for these uses and that Clemson University owns all rights to the image. I waive the right to inspect or approve uses of these images, recordings and written copies of works featuring me and I understand that Clemson University is not obligated to use any of the rights granted by me under this Agreement.