Garden Explorations Discovery Camp - June 17 – 21, 2019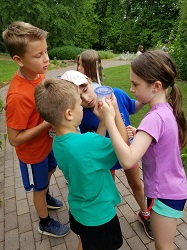 Garden Explorations Discovery Camp - June 17 – 21, 2019

An exciting summer day camp adventure brings nature discovery to life. Children explore the Garden's habitats through many fun hands-on activities and discover the wonders of the natural world. Splash through creeks, climb rocks and meet frogs and toads close-up! This year we are excited to extend Garden Explorations Discovery Camp to include a fantastic day on Lake Jocassee with naturalists and SCBG staff. Please register by June 7.

Suggested Age: 6-12
Location: Conference Center, Lower Level
Camp Session: June 17 -June 21, 8 a.m.-3 p.m, Lake day 8 a.m.-4p.m.

Drop off is from 8 – 9 a.m., camp begins at 9 a.m. sharp!