Eclipse Over Clemson- exempt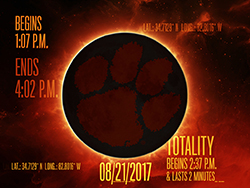 Eclipse Over Clemson , PREORDER , (Clemson, SC: Clemson University Press, 2017), Hard cover. ISBN 978-1-942954-52-1

The Aug. 21, 2017 total solar eclipse is a once-in-a-lifetime experience. A team of writers and photographers is chronicling this rare celestial event. This high-quality, keepsake book will contain a poem by renowned Southern author Ron Rash, essays from a variety of Clemson University experts, and dozens of full-page color photos of the eclipse, the event, and the people in attendance.

Scheduled to be available for shipping in early December 2017

Please note: Your credit card will not be charged until the book is published and available for shipping.