Applying Pesticides Correctly: A Guide for Private and Commercial Applicators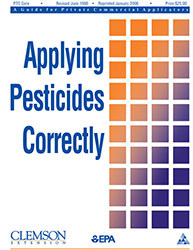 Applying Pesticides Correctly: A Guide for Private and Commercial Applicators
Authors: Clemson University Faculty and Extension Specialists and specialists with the U.S. Department of Agriculture and the U.S. Environmental Protection Agency

This book is the basic training and instruction manual for licensing all pesticide applicators in South Carolina. It consists of 12 units: Principles of Pest Control; Pesticide Labeling; Formulations; Pesticides in the Environment; Special Environmental Concerns; Harmful Effects and Emergency Response; Personal Protective Equipment; Pesticide Handling Decisions; Mixing, Loading and Application; Applying the Correct Amount; Transportation, Storage, Disposal, and Spill Cleanup; and South Carolina Pesticide Laws and Regulations. Appendix A covers Effects of Pesticides on the Human Body.

This book is 190 pages with black-and-white line drawings.

ISBN 0-9712527-1-8

Publications are currently only available for pick-up from the Kershaw County Extension Office.