2019 Turf School: Charleston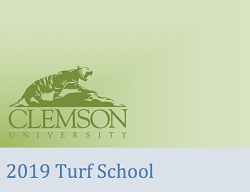 2019 Turf School: Charleston
February 14, 2019

The 2019 Turf School is a one-day course focusing on the technical challenges of maintaining turfgrass. This program is conducted by Clemson scientists specifically for professionals who work in a variety of turfgrass environments. If you manage grounds, lawns, recreational parks, sports fields, or for sod production, this workshop is for you! Pesticide Recertification Credits will be awarded for SC (4).

The course will concentrate on identifying and implementing best management practices turfgrass management. Clemson University scientists are fine-tuning effective management techniques through scientific trials in order to minimize economic and environmental costs while meeting federal and state guidelines and regulations. The Charleston class will be held on February 14, 2019. Sign in opens at 8:30am; the class begins at 9:00am.

Agenda as follows:
8:30-9:00am Registration
9:00am-Noon & 1:00pm-3:00pm Seminars
Noon-1:00pm Lunch (provided)

Date: February 14, 2019
Time: 8:30am-3:00pm
Cost: $75

Registration closes at 5pm February 8, 2019.