10th Anniversary Conference GSP Airport Shuttle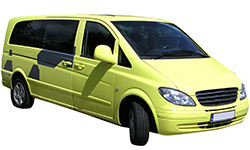 10th Anniversary Conference GSP Airport Shuttle
Take the stress out of your trip, and let us worry about the transportation for you. The US Play Coalition is offering transportation to and from Greenville-Spartanburg Airport (GSP) for the 2019 Conference on the Value of Play. You may choose round trip transportation or one-way transportation between the airport and conference center/hotel.

Shuttles will be available at specific times on Saturday, March 30 through Wednesday, April 3. Any special requests will be accommodated on a limited basis. Shuttle assignments will be confirmed with an official confirmation email from our transportation coordinator that

GSP to CLEMSON shuttles*
Saturday, Sunday, Monday, Tuesday, Wednesday
11:00 am
1:00 pm
2:30 pm
4:00 pm
5:30 pm
7:00 pm
8:30 pm
10:00 pm


CLEMSON to GSP shuttles*
Monday, Tuesday, Wednesday
3:30 am, Wednesday only
4:45 am, Wednesday only
6:30 am, Wednesday only
8:00 am
9:00 am
12:00 pm
1:30 pm
3:00 pm
4:30 pm
6:00 pm


* Please choose the planned shuttle times that best fit your flight times. We will add/modify the schedule if needed.

To ensure your transportation request is received and processed in a timely manner, please register no later than Wednesday, March 27, 2019. Reservations made after March 27 will be accommodated as best as possible, but may result in longer wait

Round trip transportation to and from the GSP airport is $50.00/person
One-way transportation to or from the GSP airport is $30.00/person

NOTE: There could be considerable cost savings to you on airfare if you were to fly to Atlanta or Charlotte. We are about two hours from both the Atlanta (ATL) and Charlotte (CLT) airports. We will not be providing shuttle service from these two airports, but it could be cost effective to rent a car and drive to Clemson.