W-2 Reprint Request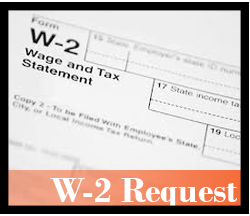 The Payroll Office can reprint W-2's from 2009-2018. The fee is $10.00 per copy and/or tax year. You can have a copy sent to you via US mail, a secure digital copy, or you may pick-up your W-2 in person at the Administrative Services Building. W-2's will be reprinted on Tuesday and Thursday afternoons, available for pick-up and mailing on Wednesdays and Fridays respectively. W-2's not picked-up within one month will be destroyed.
To purchase a reprinted W-2, you must first complete a
W-2 Reprint Request Form
. You will be given an authentication code to make your purchase.