Golden Rams Commemorative Footballs
Golden Rams Commemorative Footballs
_____________________________________________________________________________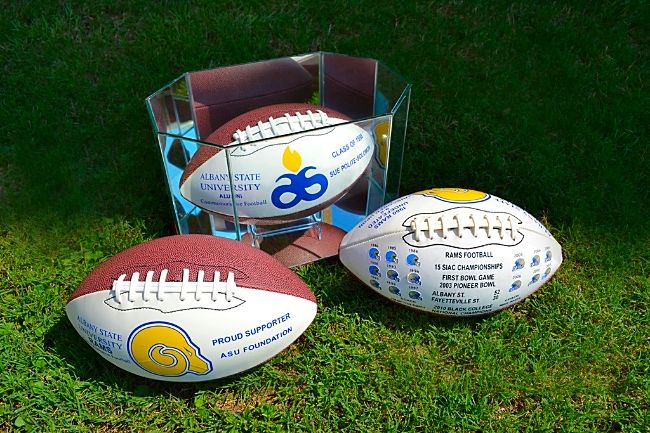 In an effort to recruit the best and the brightest students throughout the nation, while providing the BEST educational experience at Albany State University (ASU), the Office of Alumni Affairs is proud to present alumni, faculty, staff, students, supporters, and friends of ASU with our preseason fundraiser for the 2016-2017 year, "The Commemorative Football."

For the first time in our 113 year history, the Office of Alumni Affairs will make available for purchase authentic Limited Edition Championship Footballs. Each football is numbered 1 - 300. One hundred percent of the proceeds collected from this promotion will go towards scholarship and programs that will enhance student outcomes and achievements.

You must have this unique Limited Edition Championship Football that highlights all of our storied Golden Rams' football program championships, including the 1960 Undefeated and Unscored upon season. Each football will list the coaches who won the championships during that era. PLEASE MAKE YOUR PURCHASE TODAY!

You have the choice to either pick up your commemorative football(s) or have it/them shipped to you. The items will be available for pickup or shipment around August 1st.
NOTE: FOOTBALLS WILL NOT BE INFLATED PRIOR TO SHIPMENT.

To inquire about the pickup location or to discuss arranging another date for pick up, please contact: Ms Sue Polite-Solomon, Director of Alumni Affairs, 229-430-2766 | Mr. Andrew Floyd, Director for Office of Development, 229-430-3983 | Mr. Antonio Leroy, Director for the Center for the African American Male, 229-430-1821 or 229-894-5031

Please click on the link below to order your commemorative footballs TODAY!