Low Brass Camp 2020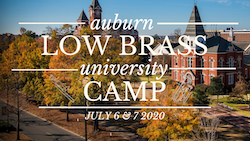 We are thrilled to announce the second annual Auburn University Low Brass Camp on July 6 and 7th, 2020 at Auburn University Goodwin Music Hall. Registration includes a camp t-shirt, lunch, and snacks for both days. This event is open to anyone currently enrolled in high school, or who will enter high school in the upcoming year.

There is a $10 discount for any student who has participated in their respective states regional honor/all-state band/orchestra. Please use promo code AULBC2020.
Early-bird registration is $65 before May 1, increasing to $75 following the deadline.

During the camp, students will be given the opportunity to participate in masterclasses focusing on a variety of topics presented by the faculty. They will also rehearse and perform with other members of the camp in chamber ensembles, and perform in a large low-brass choir. Other highlights will include a solo recital presented by the faculty.

Masterclass Topics will include:
• Fundamentals
• Technique
• Breathing Pedagogy
• Jazz Improvisation


Tentative Schedule
We will begin both Monday and Tuesday at 9:30 am. Lunch will be provided every day for registered participants. Dinner and lodging will not be provided; Day 1 concludes after the faculty recital, which will begin around 6:00 pm in the Goodwin Recital Hall; all are welcome to attend.
Day 2 concludes with a final concert around 4:00 pm in the choir room. We hope that everyone can attend and enjoy the music performance.

Several vendors will be attending as well; Eastman Music Company, S.E. Shires Company, and Arts Music are sponsoring this camp and will have instruments, mouthpieces, and accessories for participants to test and play.