AU Double Reed Camp 2020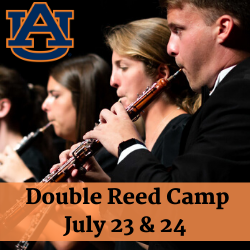 AU Double Reed Day 2019
July 23 - 24, 2020
Goodwin Hall
We are excited to announce Auburn University's Double Reed Camp 2020, which will take place on July 23rd and 24th. This event is open to all middle and high school double reed players.
Camp activities will include a variety of masterclasses, reed-making, audition preparation, and double reed ensemble! All parents and friends are invited to attend a celebratory concert on July 24th, which will include a performance by AU faculty and showcase the camp's double reed ensemble.
Registration is $65 before June 1, increasing to $75 after that date.
There is a $10 discount for any student who has participated in their respective state's regional honor/all-state band or orchestra. Please use promo code AUDRC2020.
Once you've completed your registration payment on this site, please proceed to our
Registration Survey
Contact:
Kathleen Carter Bell - oboe@auburn.edu
Conor Bell - bassoon@auburn.edu